Robert S. Foote
Robert S. Foote is a retired physician and has lived in Hartland for many years. He is the author of a number of scientific research papers and essays and has been writing poetry since high school. His poems have been published in Dartmouth Medicine, Annals of Internal Medicine, UCLA Anthology of Poetry by Physicians, The San Diego Reader, various literary journals, and on "The Writer's Almanac" on National Public Radio.
Robert S. Foote
At the Norcross Quarry,
Mount Ascutney
I think now that the simplest
questions are not only the hardest
to answer but the most important
to ask.
—Northrop Frye
It was a simple out and back, a hike
Just up the mountainside a mile or so,
To listen to the quarried stones, as though
At any moment I might hear the strike
Of sledge on hammer-drill, the warning shout,
The creak of cantilevered beam, the chuff
Of sweating horses struggling on the rough
And rutted mountain road. A thread of doubt
About the ends of things.
It was, they said,
The telltale trace of iron, the ochre stain
That grew and grew more dark with every rain,
All down the distant cities' grand façades,
That doomed this place a hundred years ago.
A silent ruin now—a spike, a rail,
A horseshoe spills its luck into the swale;
Among abandoned stones great hemlocks grow.
In the painted valley past the bluff
The angled light grows warmer as it dies—
Although I know the warmth is in the eyes—
I do not know if I have seen enough.
So what is a place? How does it give
The power to be? Is it the power to reveal
That only the particular is real,
That only the imagined self can live?
It was nearly dusk; though still the great
Mountain loomed above, I had stayed late,
So I went down by the way I came,
Toward the place where I had started,
Wondering if it would be the same
Place that it had been when I departed.
___________________________________
An Interruption
A boy had stopped his car
To save a turtle in the road;
I was not far
Behind, and slowed,
And stopped to watch as he began
To shoo it off into the undergrowth—
This wild reminder of an ancient past,
Lumbering to some Late Triassic bog,
Till it was just a rustle in the grass,
Till it was gone.
I hope I told him with a look
As I passed by,
How I was glad he'd stopped me there,
And what I felt for both
Of them, something I took
To be a kind of love,
And of a troubled thought
I had, for man,
Of how we ought
To let life go on where
And when it can.
_____________________________
Assignment

You are to write an essay.
It counts for 100% of your final grade.
Be precise but complete. There are no guidelines as to subject,
style, content, length, or criteria for assigning grades. The
required language, English or other, will be announced after
your essays are collected.
Copying the work of others may be counted for or against you.
There are limited supplies of pens and paper, not enough for all
participants. Supplies will be distributed randomly. Those
without supplies are still required to complete the essay.
Some of the pens will not have enough ink to complete your
essay; incomplete essays will lower your final grade.
There are assistants assigned to make distracting noises or to
switch off the lights by which you are writing. You will receive
no credit if this happens to you.
There is a time limit; a buzzer will sound, and you must stop
writing immediately. Anything written after the buzzer will be
deleted.
The buzzer will sound at different times for different
persons, sometimes with advance notice and sometimes without.
All grades are final.
Please begin.
Samantha Kolber
The recipient of a Ruth Stone Poetry Prize and a Vermont Poetry Society prize, Samantha Kolber has had poems published in Rattle, Oddball Magazine, Mom Egg Review, Hunger Mountain, and other journals and anthologies. She received her MFA from Goddard College and completed post-grad work at Pine Manor College's Solstice MFA Program. She lives in Montpelier, Vermont, where she coordinates events and marketing for Bear Pond Books and is the poetry series editor for Rootstock Publishing. Her chapbook "Birth of a Daughter" was published with Kelsay Books in 2020. Read and listen to her poems at her website, samanthakolber.com.
In Springtime: An Abecedarian
At winter's
beginning, we think of snow
cover. We
don't think of melting, when
Earth will be uncovered, or released
from prison. In springtime, the sky will be
grey, the grass, brown,
heavy with littered crumbs, gum wrappers, cigarette butts, Styrofoam cups.
In springtime
jays might swoop to
kill the newly thawed worm. In springtime, dog shit
like mud will
match bare trees, bare as
November.
Only
Persephone will
quit her moaning. She'll
rise up to greet the
spring,
turn mud and dirt and long shat shit into the long-awaited
uncovering,
veering hidden songs into a
wail
'xactly when
yonder cow will moan the loamy
zap of babe's first cry.
___________________________________
Birth of a Daughter
I birth myself anew
as I birth you, daughter.
I am me plus and minus the cells expunged
to create you, daughter.
You arrive, doll-sized, bright-eyed, a sponge
soaking up my milk—
more cells I shed to make you, feed you,
daughter. Am I the mushroom—
the fleshy, spore-bearing fruiting body
of a fungus, or are you? Or do we
form one as a verb? Do we mushroom
into this life, together, daughter?
I write this as you are away; we call it school,
though it is June and you are three.
I work, I write, I sit outside
in the sun, and I can't lie: it's delicious,
this time away from you;
it's precious, as are you.
It has only taken me 42 years to realize
I am precious, too.
* From Birth of a Daughter by Samantha Kolber (Kelsay Books, 2020), printed with permission of the author (samanthakolber.com).
________________________________
Waiting for the Rise
I'm sorry Earth is closed today, reads the marquee
at the local theater we drive past on our way to Mirror Lake
to teach our daughter how to fish. We arrive to find
an eggplant-shaped pond, and the girl—almost four &
not yet hardened by life's carapace—takes each worm
out of the bin, sets them free in mud.
Earth is not closed here: dirt road, golden light, steep rock,
evergreens, and the water I squint at: the glint of ripples
and the lethargy of fishing poles cast, red and white baubles waiting
for the rise. Husband and daughter bookended at the tiny shore,
lined up like paperbacks on a bookshelf—only their spines visible,
soft, loved, waiting. My son and I head out for a walk.
He, eighteen, all tall muscle, none of the spit & vinegar of teens,
nor the rebellion I dabbled in as a troubled one. What did I have
to be troubled about back then? No quarantine,
no hashtag bullies, worst of them the POTUS pushing
fat-thumbed octothorpe lies and AstroTurf rallies.
We came out here to breathe; to forget the news; to be
somewhere distant. Teach our daughter how to fish
as our son climbs boulders. Watch fish rise below as a great heron
flies above. Look up at this clear blue sky, let our thoughts
and fears loose, like a peristeronic message set free.
Megan Buchanan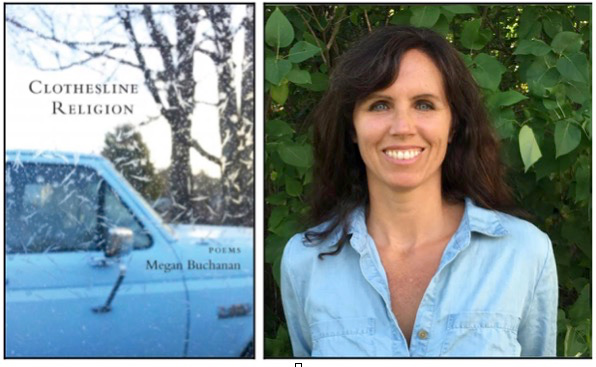 Megan Buchanan is a teaching artist: a poet, performer, collaborative dancemaker, and high school English teacher. Her poetry collection Clothesline Religion (Green Writers Press, 2017) was nominated for the 2018 Vermont Book Award. Her poems have appeared in The Sun Magazine, make/shift, A Woman's Thing, featured on public display at Art at the Kent in 2020, as well as in many other journals and numerous anthologies including most recently Dream Closet: Meditations on Childhood Space (Secretary Press), Roads Taken: Contemporary Vermont Poetry, and also Healing the Divide: Poems of Kindness and Connection (GWP). She's currently part of the collaborative project Writing the Land. Her work has been supported by the Arizona Commission on the Arts, the Vermont Arts Council, Vermont Performance Lab, and the Vermont Studio Center. She lives in Putney. www.meganbuchanan.net
My Daughter's Hair
I haven't yet been able to find words –
a sentence for what happens when I brush
my daughter's hair and divide into thirds
enough hair for a family of four
(one barber said, the rare one I trusted).
Honeycomb-colored braid, she's out the door
for school (green coat, pink backpack), and rushing
right on time, little Virgo, to the bus.
One-woman-show with harmonies, alone –
amazed, bowed down (deep inhale) O the joy
contained in waves on waves: a shimmering song
my daughter's hair sings as she floats
each afternoon high up into a tree.
Against the clouds she climbs, far beyond me.
_____________________________________
Naked Lady (Amaryllis Belladonna)
Leafless, her pink star head atop a foot-tall stalk,
leaning where you least expect bulbs to bloom:
alleyways, gravel edges of gas stations, laundromats.
I've seen her bloom beside steel poles bearing street signs,
on a hill at the edge of town, and out back of my house.
Naked Lady.
Her scent is the thing, unbelievable.
She's more than tough and pretty –
she catches the light.
And when your nose pokes inside her bell,
that feathery sugarflower breath
makes you want to blow a bubble.
Imagine the ice cream flavor: NAKED LADY.
Longlegged, pink hat-headed Naked Lady,
my kind of girl, backroads and railroad yards.
Dishwater, rainspout survivor. Beautiful,
leaning against old houses in her bare feet,
out beneath my California clotheslines,
bordered by midnight raccoon/possum/skunkpath,
tomato plant forest.
She's there at the edge of town, most obscenely
and courageously leaning naked
at all hours in her perfect pink hat.
You can't miss her.
*from a Midsummer Night's Dream
____________________________________
Singing at Matt Malloy's
Westport, County Mayo
And afterwards when
sober, red-faced uncles
grabbed me for a dance,
that freedom
I've always been chasing
was mine and I hung on (eyes
closed against the tourists)
whirling round the center,
grinning as we flew
and stomped just so.
The music roared in my head
like the fierce hum of sea
inside a shell – salty
and unending
and for long moments
I was entirely possessed
by that ordinary magic.
Taylor Katz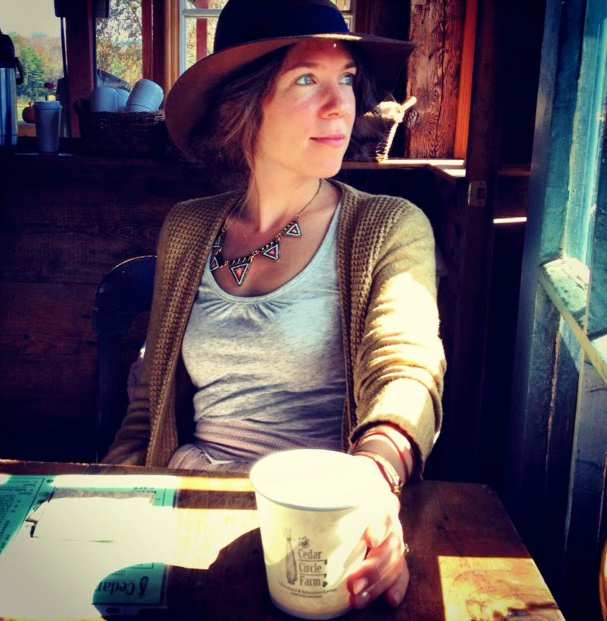 Taylor Mardis Katz is a poet, farmer, and shopkeeper living in Chelsea, VT. With her husband, she runs Free Verse Farm & Apothecary and the Free Verse Farm Shop, and parents a small and fantastic human. Taylor's poems have appeared in a variety of traditional and non-traditional publications and spaces and she is continually inspired by poets thinking outside the gridlines of traditional publishing models. She also works as a poet for hire, writing poems for strangers who find her on the internet. Equipped with her MFA from San Diego State University and an excellent hat selection, Taylor firmly believes that there is no place that poetry can't go.
Is It Just Going To Be Me In This Body-House?
I'm heavy with hair,
my gums slouch
beneath their little white bones,
and just yesterday
my knees requested time off
from the rest of my skeleton.
I try mingling
with balloons—I mimic
the tinny whines
of wind chimes—
I place my limbs
in the shape of maples
whose branches never tangle.
I slip on someone else's
sensible leather shoes,
weave my arms
into someone else's
crocheted sweater,
let the breeze squeeze itself in.
The heaviness in me invents
new zip codes
in which to thrust
its luggage.
I try looser pants
and unleavened bread;
I abstain from big thoughts
and dairy products
yet find myself
pouring eggnog into my coffee
while considering
the role of technology
in our planet's demise
and how I desire so much
the accidental crash
on the way out
of a dimly lit bar bathroom:
two strangers laughing
wiping gin off our chins
the room thick
with bodies and lit
from above and us
from within
while outside my windows the first snow of the season
quilts summer's chairs.
________________________________________
To make soup
To make soup
you must pinch
off sections
of pork
add salt
and the herbs
you grew last summer
from the glass jar
that used to hold jam
and before that pesto
and before that
homemade butter
made by a friend
who milked
a borrowed cow
named Sorrel
twice a day all summer with four kids
back at the house
the baby watched
by her 3-year-old brother until their mother came back
with the goods—
And the sting
of onions lingers
in your eyes
and there are carrots
diced
dug out of wood shavings
from a crate
in the basement
plus one red pint
of stewed tomatoes
harvested the day before
the frost: end
of the workday
on your knees
laughing with the crew
because the buckets
you brought
are farcically small—
And two quarts
of chicken stock
boiled for a day
from a carcass
of a bird
raised by your friend
who for one full summer
wrangled lymphoma
instead of haying equipment
and these days
makes ice cream
so good
that people can't help
saying "orgasmic"
about the dark chocolate pints—
And there is holiday jazz
on the speaker
and soup steam
blurs the windows
and you know
for certain
for this one
minute only
that you will survive
this winter
not because
you are stronger
or smarter
or have unearthed
some great secret—
but because
with each stir
you can find
all your friends
in the soup pot
_____________________________________
Hope in the Trees
The stillness of August
arrived today
the birds heading out
the bugs all cocooned
the wetland sucked dry
by the feet
of the backyard willows
which catch my eye
from the second-floor bedroom
each early spring
with what I am annually convinced
must be perfectly placed
orbs of snow attached
with precision
to the sky-swaying branches
for all I know of life
at that time
is snow on snow
on trees,
but what is instead,
miraculously,
each time miraculously,
the first sign of spring—
the downy fluffs
of pussy willows
clinging to the branches
having just exposed
their fur
to the world
for the first time,
again.
Peter Money
Peter Money's work has appeared in The Sun, American Poetry Review, North Dakota Quarterly, Provincetown Arts, Hawai'i Review, on The Writer's Almanac, RTE, and elsewhere. His books include co-translated poems with Sinan Antoon, Nostalgia, My Enemy by Saadi Youssef (Graywolf Press), the novel Oh When the Saints (Liberties Press, Ireland), a novella Che (BlazeVox), and several books of poems. His spoken word CD, Blue Square, with composer Mike Salvatoriello, is available on Apple Music. Last year, his pandemic poems were published as Harbinger, or HAR DEE HAR HAR. The former director of Harbor Mountain Press, Peter previously edited the literary journals Writers' Bloc (Oberlin), Lame Duck (Brooklyn/San Francisco), and Across Borders (Lebanon). With Partridge Boswell and Nat Williams, he is one third of the poetry band Los Lorcas.
The Proof
James takes me around the bend
to where they are,
a river pool,
a shoal out in the middle sun,
thick tree curved for a seat
four feet above water
to where we can see bottom,
freckled like our skins.
"But I suppose," he figures,
"it is a lot of things"
—meaning what he is doing,
what I am;
—our golems, our mountains.
You could say.
And this is fine for now.
For all we are here to do
is to say.
________________________
The Action
The water
lets the fish down.
an act of distraction
—or a call to
my name,
see:
a pearl in a time
of war.
Didi Jackson is the author of MOON JAR (Red Hen Press, 2020). Her poems have appeared in The New Yorker, New England Review, and Kenyon Review.  She lives in Nashville, TN and teaches creative writing at Vanderbilt University. She recently rescued a puppy who truly puts the word terror in terrier. 

SIGNS FOR THE LIVING

Sometimes, after the last snow in May,
after the red-winged blackbird clutches the spine
of the cattail, after he leans forward, droops
his wings and flashes his epaulets, I imagine
shouldering the yellow center lines of the road.
Near the recently thawed pond, within a long
channel of construction, a man holding a sign.
One side says slow, the other stop.
Joy and sorrow always run like parallel lines.
Inside the house, when I leave the lights on,
small white moths come like a collection of worship,
pulsing their wings up and up the window,
as if in a frenzied trancelike dance,
some dervishes, others the penitent on shaky knees.
The first few years after my husband's suicide
I wanted to be the penitent.
I thought I deserved all the pain I could feel.
The drill of road work in late summer
was a welcome grinding music.
Now the yellow center lines are flung like braids behind me.
__________________________
MOON JAR

My wedding ring is missing
one small diamond, and
I like it that way: a reminder
of the imperfect in
all of us, like that keyhole
size of grief that remains crystalline.
In Korea, ceramicists for centuries
have made moon jars: testimony
to the virtue of modesty: asymmetrical
warping on the wheel, slumping
in the pine-heated kiln,
impurities when fired — black
dots and pocks on its surface
like freckles on skin.
I have been kept awake
so many nights by the moon:
its pull on the pines and night birds
and who, like a monk, keeps a sharp order of time.
Never a perfect sphere,
the milky moon jar joins two
clay hemispheres into one.
When the light of the moon
finds me, I am the color
of everything in the winter night.