The video of the 2023 Poetry Festival is here.
Featured Poets for the Seventh Annual Hartland Poetry Fest are:
Megan Buchanan
Robert Foote
Ray Keifetz
Hatsy McGraw
Taylor Mardis Katz
Alan Haehnel
Megan Buchanan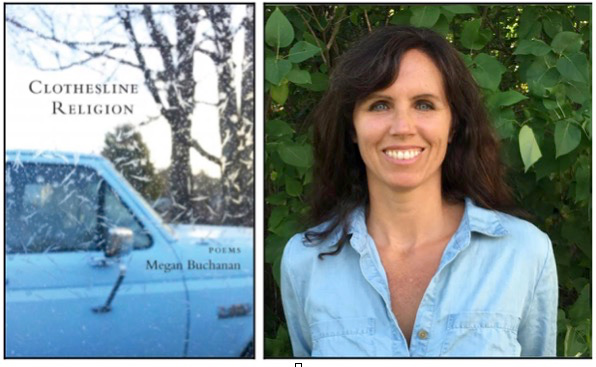 Megan Buchanan's poetry collection Clothesline Religion (Green Writers Press, 2017) was nominated for the 2018 Vermont Book Award. Her poems have appeared in The Sun Magazine, make/shift, A Woman's Thing, and ITERANT, and also featured on public display at Art at the Kent in 2020, as well as other journals and numerous anthologies. Her interdisciplinary performance project REGENERATIONS: Reckoning with Radioactivity was in residency at the Brattleboro Museum and Art Center this past winter. Her work has been supported by the Arts Council of Windham County, the Vermont Arts Council, Vermont Performance Lab, and the Vermont Studio Center. She lives in Putney and works with teenagers with learning exceptionalities. www.meganbuchanan.net
Robert Foote
Robert S. Foote is a retired physician and has lived in Hartland for many years. He is the author of a number of scientific research papers and essays and has been writing poetry since high school. His poems have been published in Dartmouth Medicine, Annals of Internal Medicine, UCLA Anthology of Poetry by Physicians, The San Diego Reader, various literary journals, and on "The Writer's Almanac" on National Public Radio.
Ray Keifetz
Ray Keifetz is the author of two poetry collections – Night Farming in Bosnia,
Bitter Oleander Press, 2018, winner of that press's Library of Poetry award, and
Museum Beasts, forthcoming Broadstone Books. His stories and poems have
appeared in the Ashland Creek Press, Briarcliff Review, Gargoyle, Kestrel, Osiris,
Phantom Drift, RHINO, and others, and have received three Pushcart Prize
nominations. He lives and writes in rural New Hampshire.
Hatsy McGraw
Hatsy McGraw has written poetry for over thirty years and has published in several literary magazines including The Anthology of New England Writers, Bloodroot, Hanging Loose, The Salon, and Across Borders as well as the anthology, Birchsong: Poetry Centered in Vermont. In 2004, she won the Robert Penn Warren Prize for Free Verse. Hatsy lives in Hartland, VT. with her husband, painter Tom McGraw, and their two cats, Leon and Dali.
Taylor Mardis Katz
Taylor Mardis Katz is a poet, farmer, and shopkeeper living in Chelsea, Vermont. With her partner, she runs Free Verse Farm & Apothecary and the Free Verse Farm Shop, and parents one small and fantastic human. Taylor's poems have appeared in a variety of traditional and non-traditional publications since receiving her MFA from San Diego State University, including a farmer's almanac, the podcast Brave Little State, The Connecticut Review, Barnstorm, and the Adirondack Review.
Alan Haehnel
Alan Haehnel is a teacher, playwright, director and spoken word poet who lives in Hartford, Vermont. Recently retired from teaching English for 31 years, his focus has turned to his poetry; he is currently presenting his one-man, multi-media show, My Ode to Joy, at various locations around the Upper Valley.